WooCommerce Inventory Synchronization for Dropshipping is the most flexible plugin that allows you to import unlimited amount of products from unlimited amount of online stores (suppliers).
Plugin will create professionally looking product listings by automatically importing gallery and content images along with title and description with possibility to customize them.
Powerful customizable pricing rules allow to easily set the profit you make for each dropshipping product.
Inventory Synchronization will automatically update your dropshipping WooCommerce store listings when their price or stock status will change.
WooCommerce Inventory Synchronization for Dropshipping does not set any limitations on amount of orders or products you dropship.
Use Case
For example: You found products you want to resell without physically stocking them (dropship) in one or more online stores. Then you can configure integration rules with these suppliers and import all the products you want to dropship. If products you dropship will go on sale or go out of stock, your WooCommerce store listings will get automatically updated as well.
Features
Ability to synchronize inventory and listings with any publicly accessible online store.
Unlimited number of suppliers.
Ability to export and import suppliers, so you can migrate your settings between different WooCommerce stores.
Unlimited number of synchronized products from different suppliers.
Automated import of listings from their URLs.
Ability to customize title, descriptions, category, tags of synchronized products.
Import of gallery photos as well as pictures embedded in the product's description.
Configurable XPath rules for parsing each aspect of supplier's listings.
Ability to test integration rules right from the supplier settings screen.
Configurable frequency of inventory synchronization.
Configurable price adjustment per supplier as well as per individual product.
Ability to choose to synchronize price and/or inventory/stock (one or both) per supplier and per individual product.
Ability to completely re-import selected products (re-download title, description, price and photos).
Ability to force re-synchronization of the price and inventory.
Ability to add inventory synchronization to already existing products that were not synchronized before.
Searchable list of synchronized products with current inventory synchronization status and detailed errors.
Installation
Upload WooCommerce Inventory Synchronization to the "/wp-content/plugins/" directory.
Activate the plugin through the "Plugins" menu in WordPress.
Installation complete
Configuration
Go to WooCommerce -> Inventory Synchronization
General Settings
In General Settings tab you can globally enable / disable synchronization and setup properties that affect performance of the system.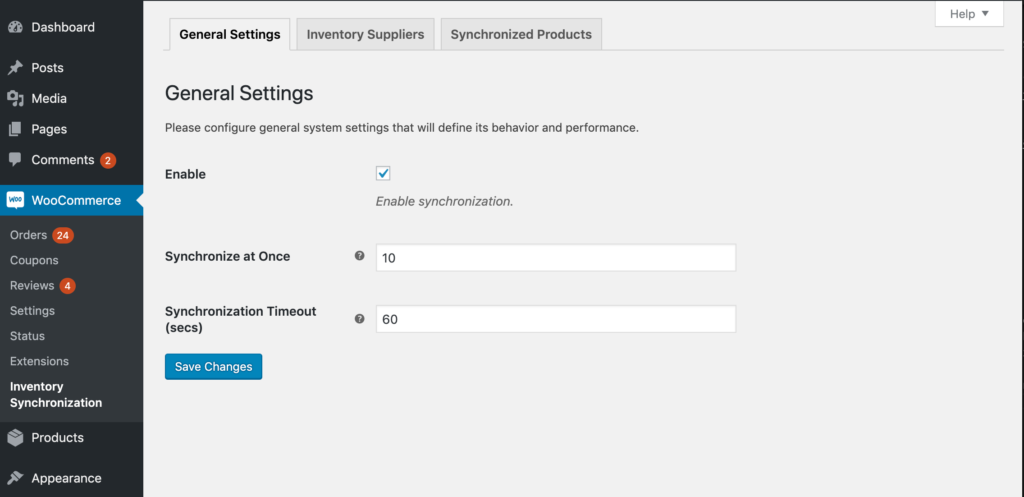 Inventory Suppliers
Inventory Suppliers table gives you a quick view of all the configured suppliers and allows you to Delete or Export selected suppliers as well as start editing, add or import new supplier you use for dropshipping.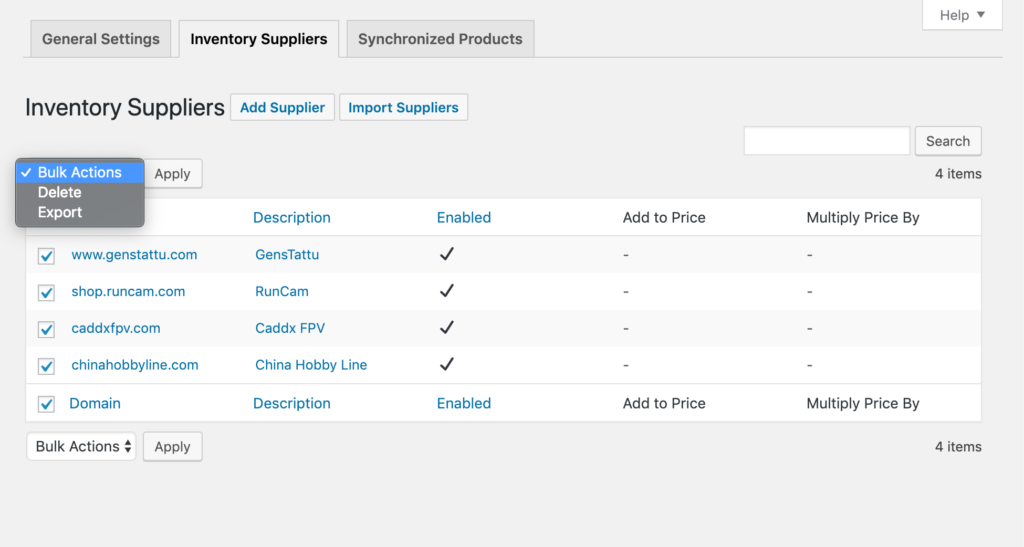 Add Supplier
By hitting Add Supplier button in Inventory Suppliers tab you will be presented with the form where it is possible to configure all the necessary supplier's settings and XPath expressions, so Inventory Synchronization plugin will be able to extract correct pieces of information required for the integration.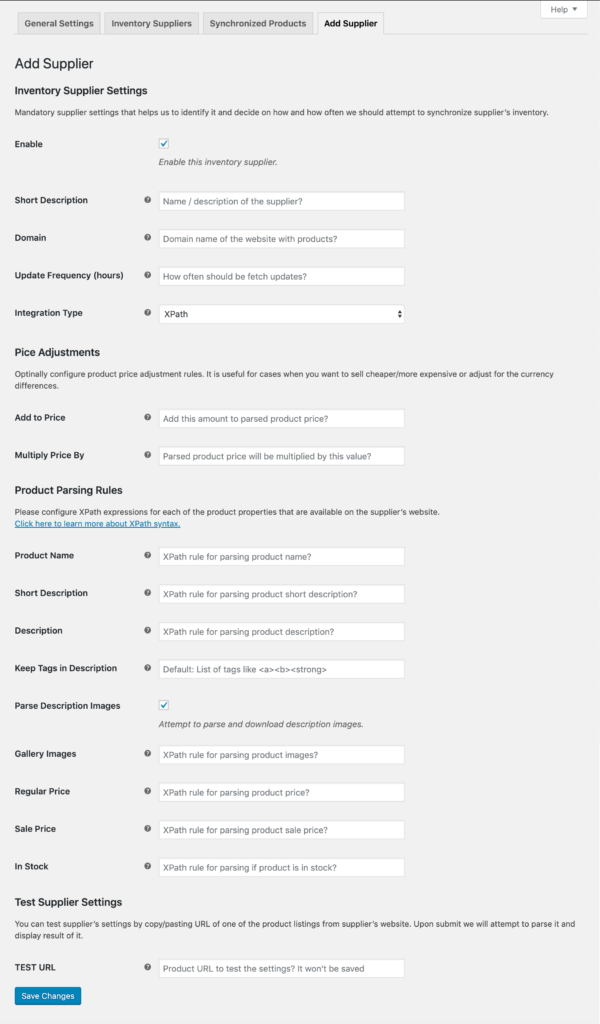 * XPath syntax is simple, easy to learn and understand. You can read more about it here.
Import Suppliers
By hitting Import Suppliers button in Inventory Suppliers tab you will open a form where it is possible to select and then import previously exported Inventory Suppliers.


Synchronized Products
Synchronized Products table gives you a quick view of all the products that system synchronizes and allows you to Delete, Re-Synchronized or even complete Re-Import selected products.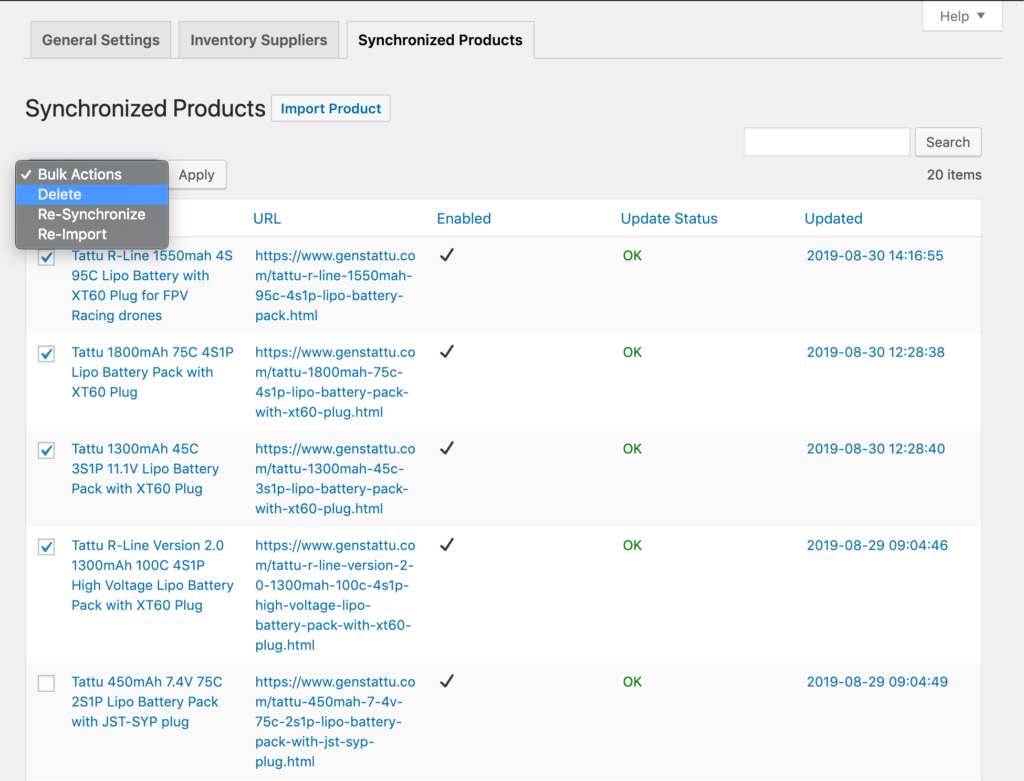 Import Product
By hitting Import Product in Synchronized Products tab you will be presented with the form where it is possible to specify URL of the product to import as well as other settings which will be saved between the imports, in order to help you to speed up importing process.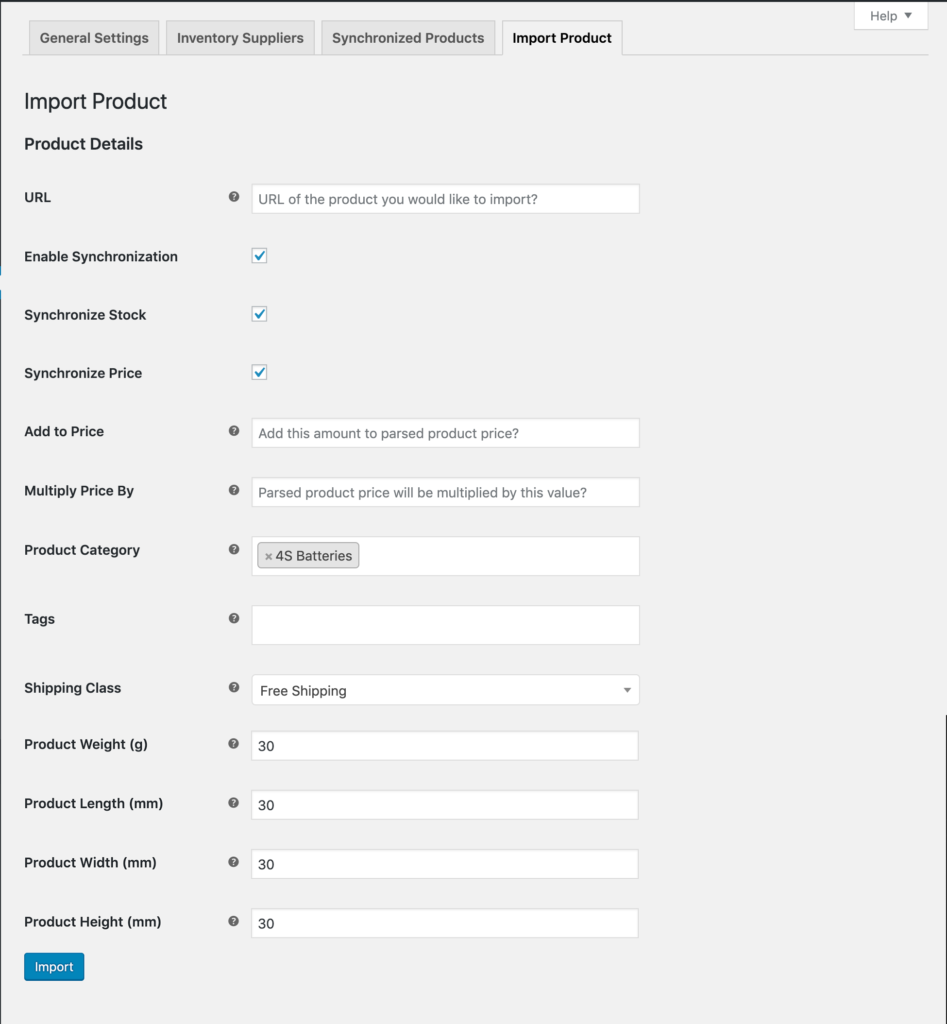 Product Settings
You can adjust Inventory Synchronization settings of previously imported or add synchronization to previously unsynchronized products by either clicking on a product in Synchronized Products table or by clicking on it in the regular Products WooCommerce table and then going into Product data -> Inventory Synchronization tab.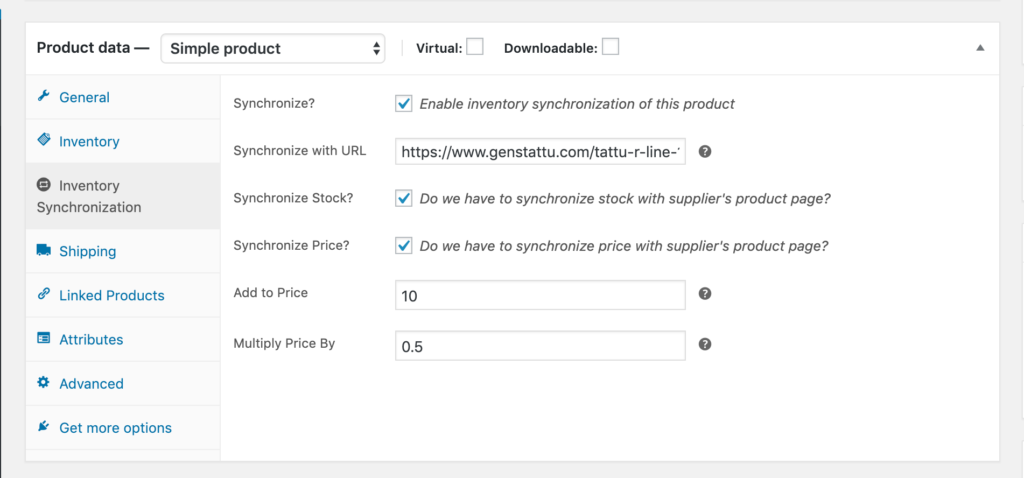 ** Please note that plugin does not have any inventory suppliers pre-configured and it is the responsibility of the plugin user to setup the integration. Configuration is fairly straight forward and easy, but we will be happy to assist you with configuration for an additional fee.