Why do customers never choose different variations of your products?
It is because dropdowns are inherently not user friendly and require extra clicks in order for customers to be able to see what else you might be offering. In addition to that most of the people are using mobile devices to shop where dropdowns add even more frustration to the shopping experience.
This amazing plugin will display beautiful modern looking and mobile friendly product options where customers can see what they are going to buy right away.
How does it work?
It upgrades the product variation selection to modern looking radio buttons, image selectors or color swatches.
Our plugin can optionally display the price, thumbnail of the variation as well as term description and tooltips, which will improve customers' experience even further.
Variations Radio Buttons and Swatches plugin is highly customizable and it lets you choose a color and an image for each attribute term, orientation of the options, different positions of the attribute label as well as to display thumbnail and price before or after the option's name.
You can mix and match different looks of the options for products that have more than one attribute used for variations.
It is the most advanced plugin and offers more features than any other alternative.
In addition to global settings it lets you customize every possible setting for any attribute of the product as well as define order in which thumbnail, title, stock and price information are displayed, position of the tooltip along with what is displayed in it.
It even lets you display radio buttons / swatches for selected products only.
Demo
This product listing is using our Variations Radio Buttons and Swatches plugin to offer different subscription options.
(PRO version) Features
Radio buttons, swatches or default option selector
Display image, price and/or stock status of a variation
Customize location of an attribute label
Vertical or horizontal orientation of the attribute options
Choose order in which option/term title, thumbnail, price and stock status will be displayed
Display attribute/term description
Display term name or description as a tooltip
Choose location of the tooltip
Configurable border radius
Configurable width and height
Overwrite settings for the any variation attribute of a product
Attach an image to a term that will be displayed in the option selector
Set a color to a term that will be used as swatch background color
WPML compatible – it's possible to build multilingual sites
Customize tooltip styling (ex. font, text alignment, background, border, margin, padding, opacity)
Customize attribute label styling (ex. font, text alignment, background, border, margin, padding, opacity)
Customize every possible radio buttons styling
Customize every possible swatches styling
Radio buttons with extra info
You can display beautiful radio buttons with terms description and custom order of price/title option elements.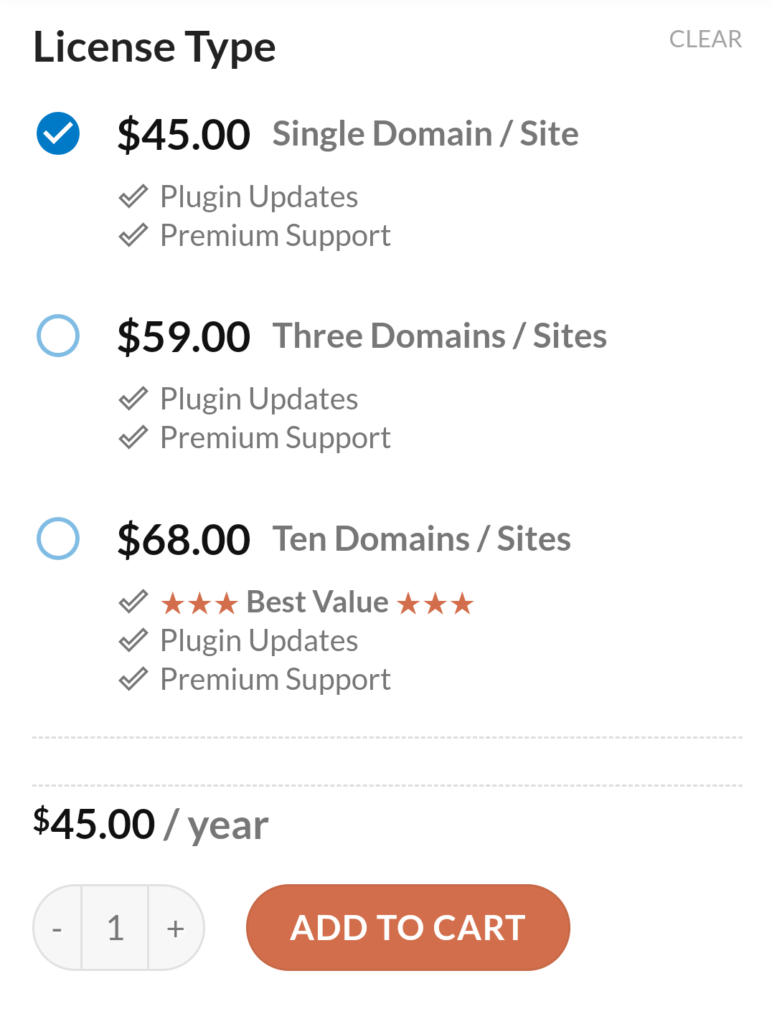 Different style of swatches
You can display different style of swatches for each of the product attributes.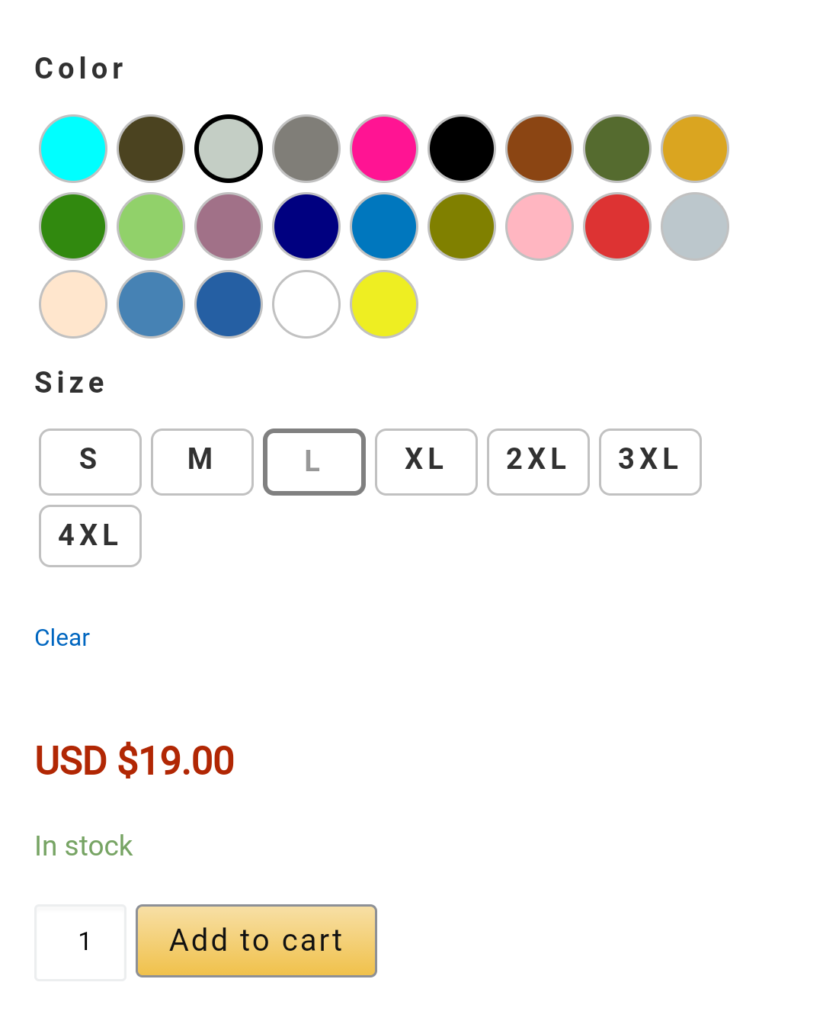 A lot of global settings
You can customize a lot of plugin settings that will be applied globally.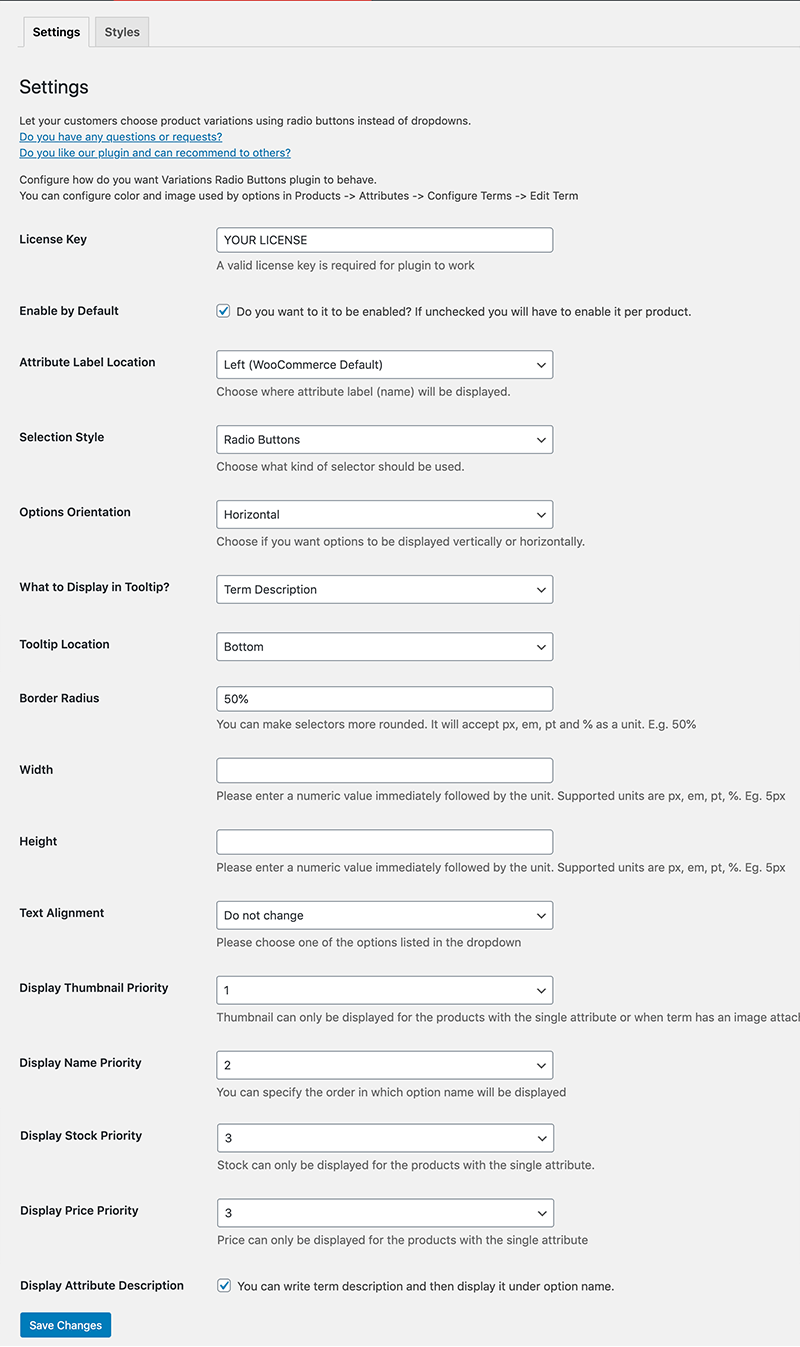 Customizable Tooltip styles
Customize every little detail of tooltip styles.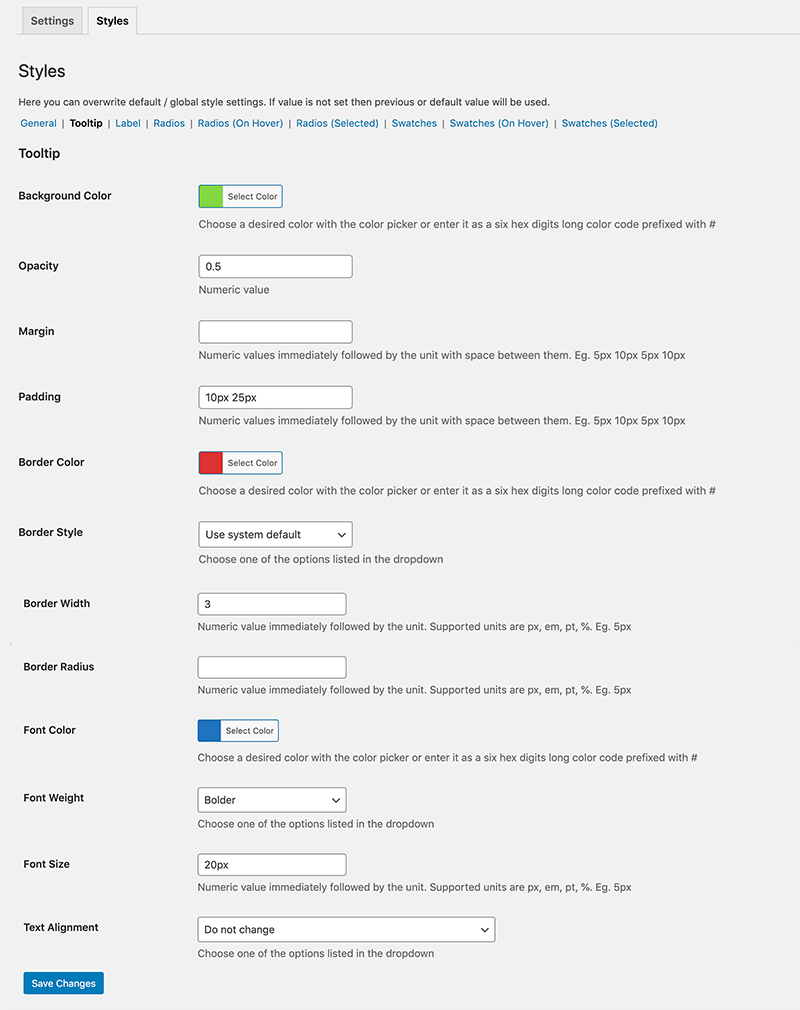 Customizable label styles
Customize every little detail of the label styles.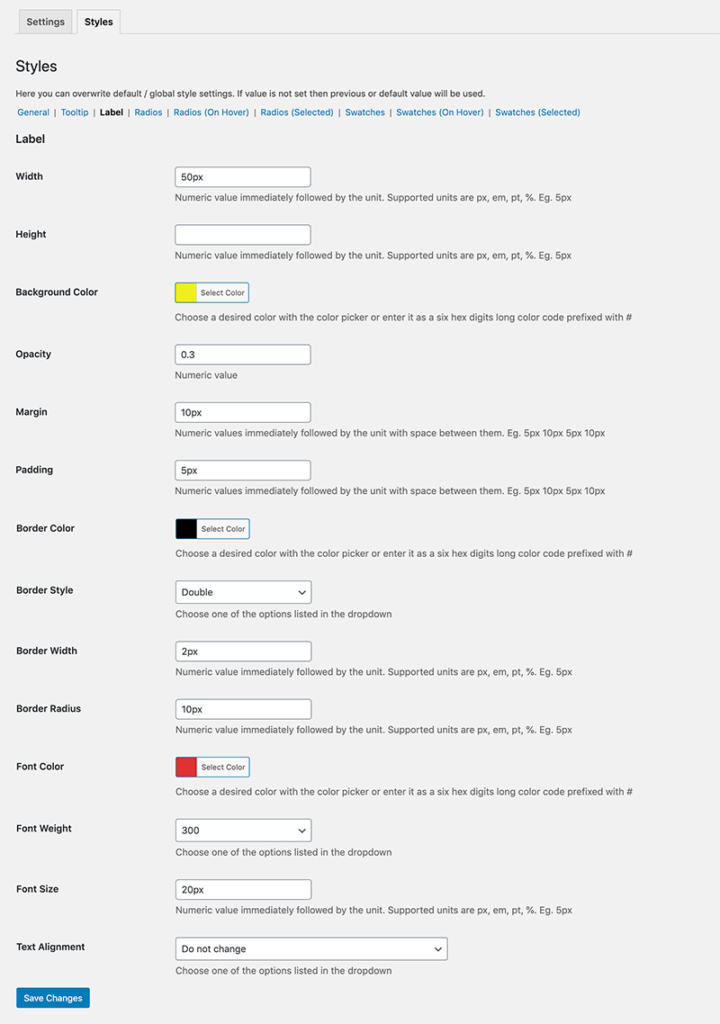 Customize Radio Button styles
A lot of customization options of radio button styles.
Customize style of the Swatches
A lot of customization options for the style of the swatches.

Add color and an image to a term
Attach color and an image that will be displayed for a given term/option.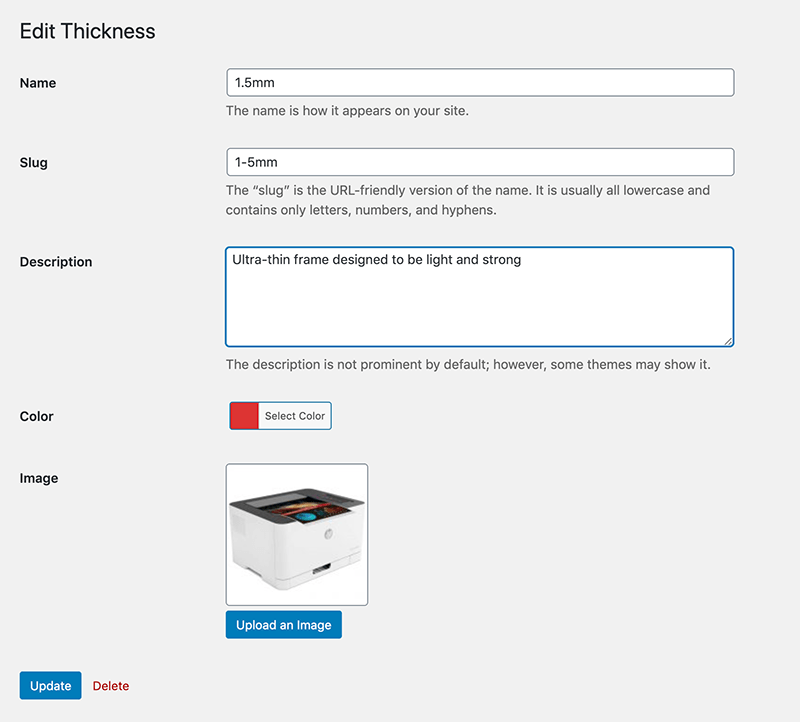 Preview term colors and images
Quickly preview colors and images attached to the terms right in the attribute terms table.

Overwrite any global property per product attribute
Customize swatches / radio button settings for every product variation attribute.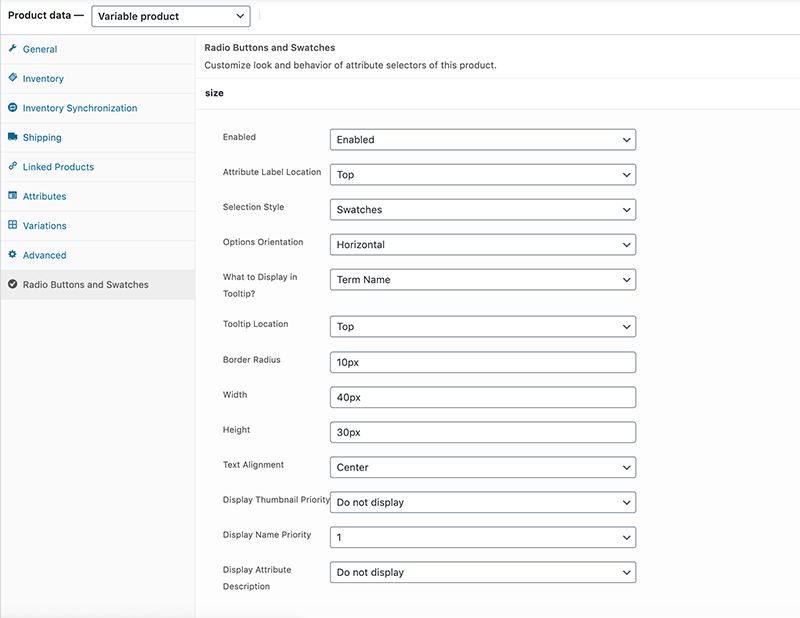 Installation
Go to WordPress -> Plugins -> Add New
Hit Upload Plugin button
Hit Choose File button and select zip file with the plugin
Hit Install Now button
Hit Activate link
Installation complete