Does your carrier require you to print manifests?
Shipping Manifests PRO is an add-on for selected shipping plugins that support manifesting. It will automatically group shipments with purchased postage by a carrier and FROM address into batches and let you print manifests.
Features
Automatically group purchased shipments into batches by a carrier and FROM address
Close batches manually
Define shipping schedule
Define Cutoff time, after which new batch will be opened
Displays Batch ID in shipment details
Search orders by Batch ID
What do you need to start?
1. Install, activate and configure any of 1TeamSoftware shipping plugins that support manifests feature
3. Install and activate Shipping Manifests PRO for WooCommerce plugin
Go to WordPress -> Plugins -> Add New
Hit Upload Plugin button
Hit Choose File button and select zip file with the plugin
Hit Install Now button
Hit Activate link
Installation complete

4. Enter your license key and choose shipping plugins you want to use for this manifests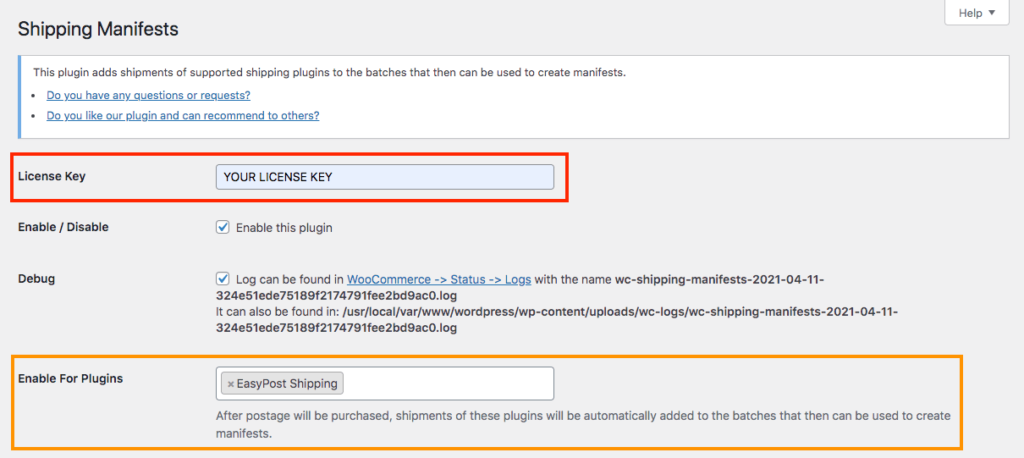 If you have more than one of supported shipping plugins installed then you can enable it for all of them.
That should be all you have to do to get started!
Shipping Schedule
If you ship only on the certain days and your packages are always picked up at the same time, then you can define your regular schedule in the plugin settings.

Shipping Manifests plugin will automatically close batches after specified cutoff time and intelligently choose next available ship date for the next batch.
Please note that you don't have to use this feature if you prefer to close batches manually.
How to add shipment to the batch?
All shipments with purchased shipping labels are automatically added to the open batches, which are grouped by a carrier and from address.
Shipment details in the WP Admin orders page as well as inside of the order will contain a link to the batch where shipment has been added.
How to print manifests?
1. Go to WooCommerce -> Batches submenu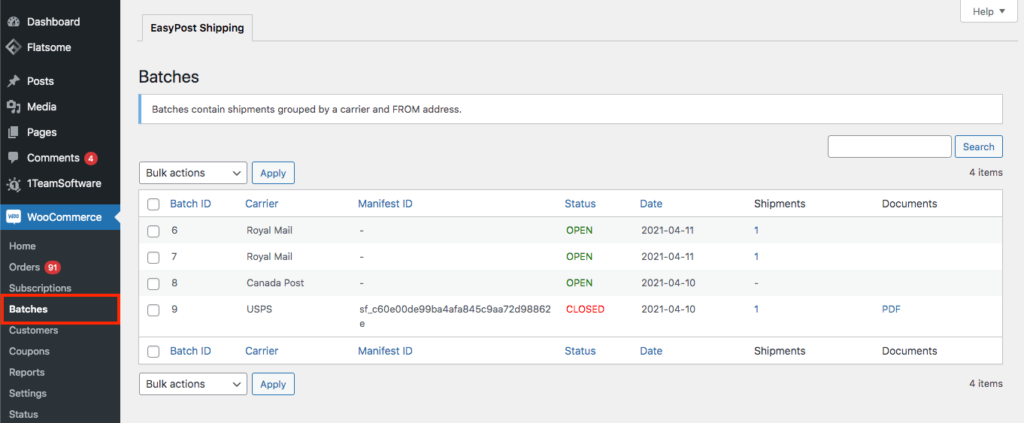 * If you don't see Batches submenu, it means that plugin is inactive or supported shipping plugin wasn't configured in the settings of Shipping Manifests.
2. Select batches you want to print manifest for and then choose Create Manifest

3. Download and print manifest
If everything went well you will see a link to created manifest in Documents column, which you can download and print.

How to see shipments in the batch?
There are two ways to find shipments within the batch:
1. Click on the shipments link in the shipments columns of the batches table

2. Enter batch ID in the WP Admin Orders Batch ID filter field and hit Filter button

In case of (1) you will essentially end up in the orders page with Batch ID filter field pre-filled.
You will then see the orders that belong to selected batch

Do you have any questions or need extra features?
If you have any further questions or would like us to implement any extra features, then please do not hesitate to contact us!
Rate us & Review
If you love our plugins, please give us a full five-star rating, so that we know that our work is valued and appreciated.
This will be the drive and motivation for us to further improve our plugins with more useful features.
We highly appreciate your support and love.