EasyPost Shipping PRO for WooCommerce plugin is the most flexible shipping solution on the market that lets your WooCommerce store to easily integrate with 100+ carriers worldwide via EasyPost API service by automatically packing items into boxes, displaying accurate real-time shipping rates at the cart / checkout pages, automating creation of shipping labels, providing easy access to the tracking information and automatically sending shipment tracking updates for Asendia, USPS, Canada Post, Fedex, UPS, Pulorator, DHL, Singapore Post and many other carriers.
Rate us & Review
If you love our plugins, please give us a full five-star rating, so that we know that our work is valued and appreciated.
This will be the drive and motivation for us to further improve our plugins with more useful features.
We highly appreciate your support and love.
How does it work?
Features
Support of 100+ carriers worldwide

Live shipping rates at WooCommerce cart & checkout

Ability to require valid shipping address, before allowing to place an order

Enable globally or per Shipping Zone

Accommodate your packaging and marketing material with flexible package weight adjustments

Charge extra handling fee or implement currency conversion with flexible shipping rate adjustments

Flexible Media Mail rule

Include Insurance and Request Signature service

Test your setup before going into production by running in the sandbox

Easily find issues by enabling debug mode

Speed up your website by caching and re-using previously found rates
Pro version Features
Use WooCoommerce store or Marketplace vendor's location as the originating address for accurate shipping rates. It supports Multivendor plugins such as Dokan, WCMP, WCFM, YITH.

Dimension and weight based packing of the items into configurable boxes

Ability to combine parcels to get better shipping rates

Display different name for selected shipping services

Allow all or only selected shipping services

Configurable purchase postage workflow

Create return shipping labels

Buy shipping labels in one click

Bulk purchase and download of consolidated shipping labels PDF file for multiple orders at once

Easy access to tracking history for admins and customers

Automatically notify customers about progress of their shipment

Link previously created shipments to orders
Real-time shipping rates
Based on the products in the cart, box dimensions they can fit into and address of the customer and store / vendor, it fetches real-time shipping rates and displays them on the cart, and checkout pages.
Customers can choose and checkout with any of the shipping methods offered by EasyPost.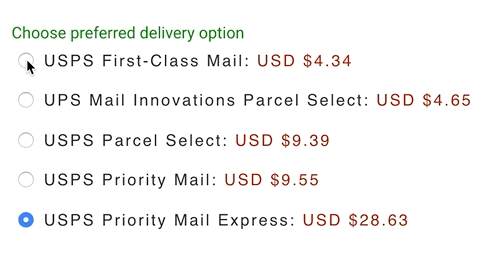 Stop losing money and time by shipping to wrong addresses!
In addition to live shipping rates our EasyPost plugin can also validate shipping address before allowing customers to place an order.

Show estimated delivery time of your shipments
Enable / disable displaying of estimated delivery time of your shipments and tracking type next to the shipping method name in the cart and checkout pages.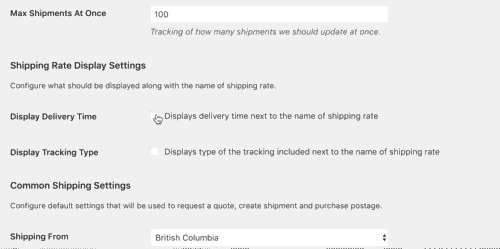 Dimension and weight based packing of the items into boxes
Configure dimensions, weight and max weight that boxes you use to ship orders can carry, so then plugin can use this information to precisely estimate shipping rates and reduce time you need to create shipments by predicting how order will be packed.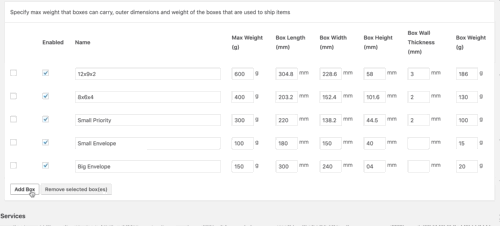 Combine boxes to reduce shipping rate
If products in the cart can't fit into a single box, then plugin will split order into several boxes and calculate final shipping rate as a sum of shipping rates for the number of boxes required to fit all the items.
In order to save on shipping you can enable Combine Boxes feature that will let pluging know that you will attempt to find a bigger box that wasn't previously configured in the system.

Flexible shipping weight adjustment rules
Configure how final weight of the parcel should be adjusted before plugin will fetch shipping rates from EasyPost. It is useful for cases when you add some promotional materials that increase weight of the package.

Flexible shipping rate adjustment rules
Configure how quoted shipping rates should be adjusted, which is useful if your store sells in a different currency or you just need to discount / increase shipping rates.
EasyPost Shipping PRO plugin lets you configure global or per shipping method rates adjustments.

Include Insurance and Request Signature service
Plugin allows to include insurance with the shipment and its fee will be added to the quoted shipping rate.
You can also request signature service for all or selected orders.

Display different name for selected shipping methods
Customize names of selected shipping methods in the configuration page of the plugin, so then cart and checkout pages will display this name instead of the original one.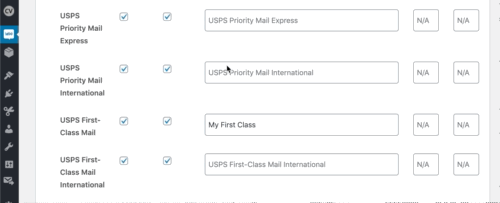 Configurable automated tracking of the shipments
When auto tracking feature is enabled, then EasyPost Shipping plugin will pull updated shipment status and tracking history with configured interval.
Auto tracking feature has a number of settings that will let you get the best performance and frequency of updates.
Updated tracking information will be emailed to the customers as well as available on the website.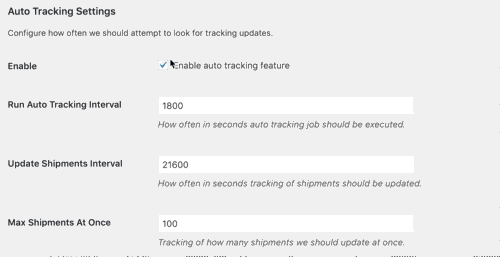 Create shipments and purchase shipping label
Get a quote, create unlimited number of shipments and purchase postage right from the order page in the admin area of your WooCommerce.
Plugin also allows you to cancel unpaid shipments, request refund for already purchased postage and see latest tracking information of the shipment.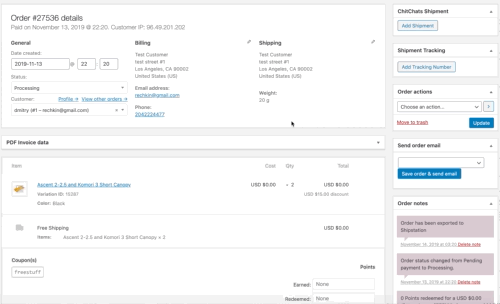 Configurable purchase postage workflow
Choose what steps are required to purchase postage for your orders.
It is possible to configure plugin to require to get a quote, before shipment can be created or postage purchased as well as to require confirmation of the shipment details before continuing to next steps.

Purchase shipping label in a single click
With properly configured weight and dimensions of the products, and boxes you use to ship orders, plugin can precisely estimate dimensions and weight of the parcel, so in case of high volume of shipments it is possible to setup the workflow that will speed up operation of your warehouse by allowing to purchase shipping label in just one click.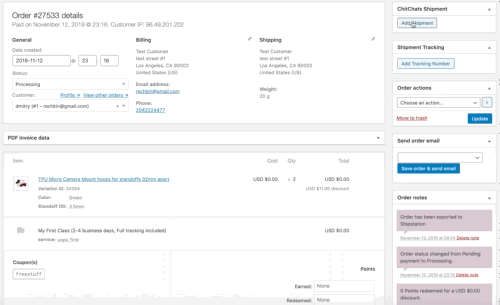 Email notifications and easy access to tracking information
Upon purchasing of a shipping label customers will receive email notification with the tracking number associated with it, as well as email notifications every time shipment status will update.
Tracking number associated with the order and its current status is available in the orders page, and detailed tracking history can be viewed at the order page in Admin and User interfaces.

Ability to run it in sandbox and debug modes
Plugin can be set to sandbox mode, so you can test creation of the shipping label without paying for it.
In cases when things might not work exactly as expected, it is possible to enable debug mode which will display detailed messages explaning what is going on and what data are used, so you can easily narrow down the issue.

Best Value on the Market
Our WooCommerce shipping plugin includes more features that others either don't have or require extra paid add-ons for them, such as:
Bulk Label Printing
Return Labels
Address Validation
Real-time shipment tracking with email notifications
Print shipping labels with Vendor address
Supported Carriers
AmazonMws
APC
Aramex
ArrowXL
Asendia
Australia Post
AxlehireV3
BorderGuru
Cainiao
Canada Post
Canpar
CDL Last Mile Solutions
Chronopost
Colis Privé
Colissimo
Couriers Please
Dai Post
Deliv
Deutsche Post
Deutsche Post UK
DHL eCommerce Asia
DHL Express
DHL Freight
DHL Germany
DHL eCommerce
DHL eCommerce International
Dicom
Direct Link
Doorman
DPD
DPD UK
China EMS
Estafeta
Estes
Fastway
FedEx
FedEx Mailview
FedEx SameDay City
FedEx UK
FedEx SmartPost
FirstMile
Globegistics
GSO
Hermes
Hong Kong Post
Interlink Express
Janco Freight
JP Post
Kuroneko Yamato
La Poste
LaserShipV2
Latvijas Pasts
Liefery
Loomis Express
LSO
Network4
Newgistics
Norco
OmniParcel
OnTrac
OnTrac DirectPost
Orange DS
Osm Worldwide
Parcelforce
Passport
Pilot
PostNL
Posten
PostNord
Purolator
Royal Mail
RR Donnelley
Seko
Singapore Post
Spee-Dee
SprintShip
Toll
TForce
UDS
Ukrposhta
UPS i-parcel
UPS Mail Innovations
UPS
USPS
Veho
Yanwen
Yodel
Disclaimer
1TeamSoftware does not take any responsibility for what carriers are supported by EasyPost service and it is not accepted as a reason for refund. If unsure, please verify if your carrier is supported directly with EasyPost service support before purchasing this plugin.
Please note that EasyPost is charging fees for using their API service. For more information please check EasyPost Terms of Services.
Do you need EasyPost account? Please click here to register it!
Installation
Go to WordPress -> Plugins -> Add New
Hit Upload Plugin button
Hit Choose File button and select zip file with the plugin
Hit Install Now button
Hit Activate link
Installation complete
Screenshots
Plugin Settings
Navigate to WooCommerce -> Settings -> Shipping -> EasyPost Shipping PRO


Enable Shipping Zones
Navigate to WooCommerce -> Settings -> Shipping -> Shipping Zones, hit Add Shipping Method and choose EasyPost Shipping PRO